Compositions/Literature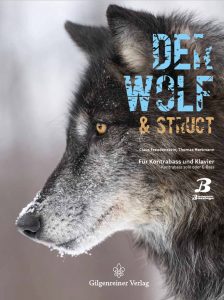 Der Kontrabassunterricht für Kinder und Jugendliche nimmt nicht zuletzt durch die unermüdliche Arbeit der Pädagogischen Arbeitsgemeinschaften Deutschlands und Minibassspezialisten hierzulande eine erfreuliche Entwicklung. Neben wachsenden Kontrabassklassen und steigenden Wettbewerbszahlen entsteht seit mehreren Jahren immer mehr ansprechende Literatur vor allem für Anfänger. Trotz allem ist besonders die Literatur für die Mittelstufe vergleichsweise dünn gesät,
was zur Konsequenz hat, dass es vor allem in der Wertung Klavier & ein Streichinstrument bei Jugend musiziert immer wieder zu Schwierigkeiten kommt konkurrenzfähige Stücke zu finden, die erfolgsversprechend sind. Daher ist es umso mehr zu begrüßen, dass mit der Neukomposition "Der Wolf" und "Struct" ein weiterer Versuch unternommen wurde, diese Lücke zu schließen. Beide Stücke sind bereits erfolgreich uraufgeführt worden und entsprechen den Anforderungen der Mittelstufe und sind sowohl für Kontrabass als auch für E-Bass geeignet. Der Wolf Rezension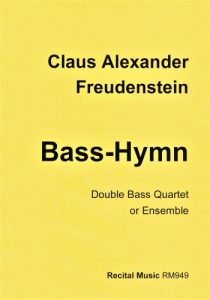 My composition Bass-Hymn is published at "Recital-Music" publishing.
"Bass-Hymn" was written for the Bavarian Basscamp to provide a piece that includes players of all levels. Mini-bass players who just started can also play along with professional soloists and Bass 5 is optional. The aim is that no player is overwhelmed and also that no one is bored with the piece. 'Bass-Hymn' uses two themes that are repeated many times in different variations and the composer hopes that the audience will leave singing and whistling the 'Bass-Hymn'.
"Bass-Hymn" is dedicated to all Bassists and music lovers in the world.